Protect The Beauty Of Your Rugs
We provide specialized services to extend the life of your rugs.
Your Clean Rugs Are Waiting!
Specialty Services
Most of our first-time customers are truly amazed to find out about ALL the different services we provide in addition to cleaning their area rugs.
These specialty services are all designed to extend the life of your rugs while also preserving their original beauty and overall value. Sometimes it only requires a small investment in a repair or a new rug pad to make a world of difference to the life of your area rug!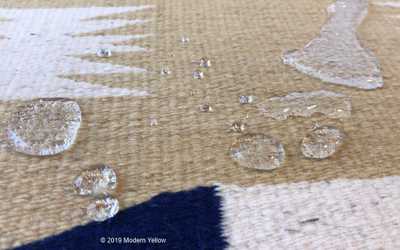 Preventative stain treatments are much more efficient and cost effective than stain removal and dye correction! Give your rugs and a fighting chance against spills, soil, and stains and have us apply a professional stain protector to the fibers of your rug after it has been cleaned. Protectors allow a rug owner a 10-15 minute window in which to remove a spill or stain. Ours even provides some UV protection to help keep the colors of your rugs bright too!
Professional application ensures the best possible result, and your stain protector should be re-applied after each professional cleaning. We provide stain protection services for your rugs, carpet, and upholstery. Just ask!
The Rug Parlor is proud to carry an eco-friendly line of rug padding that our customers and industry friends rave about. It lasts longer than typical rug pads, is made from recycled materials, and has been named a Green Label product by the Carpet & Rug Institute.
• No odors or off-gassing
• Resists mold, mildew, and odor-causing bacterial growth
• Non-toxic and non-allergenic
• Radiant heat does not break down materials
• Pet stain barrier protects floors
• Synthetic backing will not stain, discolor, or damage flooring
• Certified Green Label Plus by the Carpet & Rug Institute
• Sustainable product made from recycled and recyclable materials
• Washable and re-usable
If your current rug pads are 5 or more years old, it's probably time to replace them with our amazing eco-friendly rug pad.
When you find obvious signs of moth damage on your rugs, or if you see tiny beige moths flying around your home, call us! We will come inspect your textiles and remove any that have moth activity. Back at the rug care studio, we'll treat for the moths, give your rugs a deep cleaning, and apply a moth deterrent. If your area rugs have moth damage, we'll also provide a quote for repair services.
You may want to call in a professional pest control company to inspect your home for further treatment.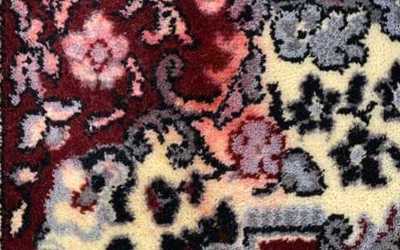 Before you throw away an area rug that you love because it has permanent color issues or dye bleed problems, have us take a look at it! Even though this kind of color repair cannot be guaranteed to be a 100% match, we are often able to bring the damage back to an acceptable, useable condition. Invisible enough that if you weren't aware of the pre-existing damage, you might never find it!
Flood Damage
Pet Urine Damage
Harsh Spot Cleaners
Improper Cleaning Methods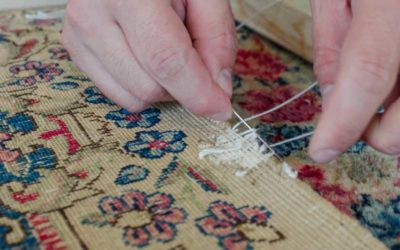 The Rug Parlor has rug repair experts ready to fix your rug! Before you throw a good rug away, see if it can be repaired first! We are able to provide our weavers with photos and descriptions of any damage and they will supply a repair quote. Once your quote has been approved by you, we will take care of the shipping and provide you with progress updates if necessary.
Holes
Pet Chewed Areas
Broken Corners
Loose Side Cords
Plant Rot
Worn Fringes
Missing Fringes
Worn Splits
Side Cord Repairs
Binding/Serging
New Backing for Tutfed Rugs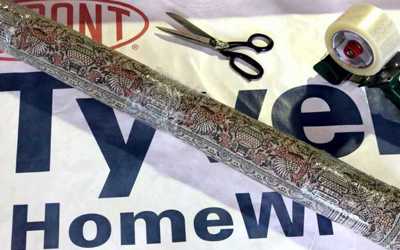 Before your area rugs go into a storage facility or onto a moving truck for shipping, they should first be washed, treated with a moth repellant, and then properly wrapped and sealed in a breathable Tyvek paper.
Rugs should be rolled – not folded – and stored in a cool, dry, temperature-controlled space, away from the wall and off the floor. Taking these steps helps reduce the risk of potential mildew growth and nesting pests in addition to moth infestation.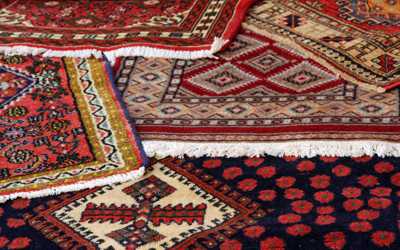 Difficult fiber types don't scare us! We're used to caring for designer luxury fibers and fiber blends.
Wool
Silk
Cotton
Rayon
Viscose
Tencel
Bamboo Silk
Linen
Sisal
Metallics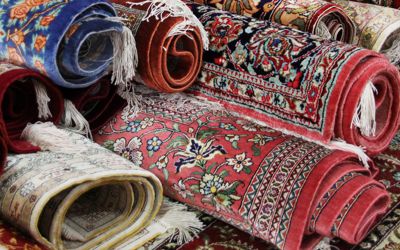 We offer pick-up and delivery services by appointment. If you are not able to have your rugs rolled up and ready for us, let us know ahead of time so that we can make the appropriate arrangements. Extra charges will apply for furniture moving on pick-up and/or delivery. Customers who wish to drop off or pick up their own rugs are welcome to do so by appointment.
Rugs must be picked up or delivered within 30 days of notification that your rugs are ready to be returned to you. Fees for temporary storage may apply for rugs left longer than 30 days unless arrangements for delayed pick-up or delivery appointments have been made with us in advance. Rugs left longer than 90 days are considered abandoned and become the property of The Rug Parlor to sell, donate, or dispose of as necessary.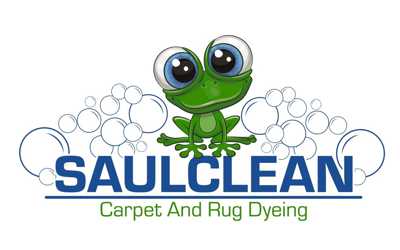 The Rug Parlor is the Oriental and area rug cleaning division of Saul Clean – our in-home services company.
Carpet Cleaning
VCT Strip & Wax
Upholstery Cleaning
Carpet Dyeing
Pet Urine Removal
Fiber Protection Services
Give us a call to find out more about the services Saul Clean provides.