About The Rug Parlor
See What Makes Us Different
"If you have an area rug, we can clean it!"
The Rug Parlor is a family owned and operated full-service rug care center dedicated to providing the most outstanding cleaning and service experience to our neighbors and friends in Montgomery County and the surrounding areas.
When it comes to area rug cleaning, our honesty, service, and experience sets us apart.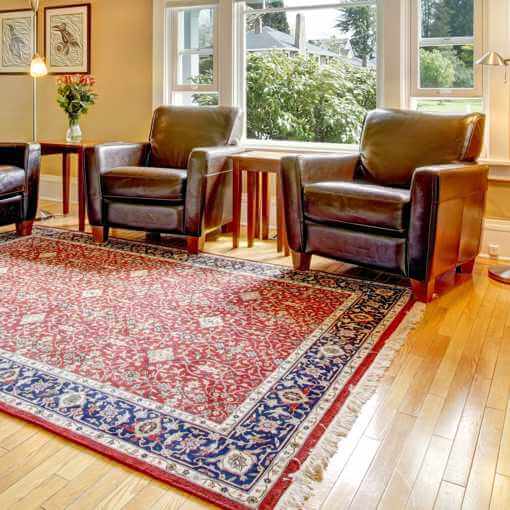 Your Clean Rugs Are Waiting!
Honesty
We provide upfront pricing after a thorough pre-inspection has been completed
We recommend and suggest only what your rugs tell us they need
We let you know if we feel an area rug may be damaged or stained beyond repair
We treat you (and your rugs!) like we want to be treated. No high-pressure sales – ever. If we recommend an additional service, we'll explain why. If we think a rug may be too far gone, we'll let you know that too.
Service
We provide customized, individual attention to each rug that comes in for care
We never co-mingle your area rugs with rugs from other homes
We use an adaptable, best-method approach from start to finish
Because we inspect, clean, and repair each rug one at a time, we can tailor a best-method system for every rug that we see. No huge wash tubs here! Just a whole lot of individual attention and care.
Experience
Area rug specific advanced education and training
Practical experience with specialty Oriental rugs and delicate rug fiber types
Diverse knowledge of dye-safe stain removal techniques and odor removal methods
Caring for the special dyes, fibers, and construction types of handmade area rugs, designer rugs, and heirloom quality Oriental rugs requires advanced training and education, and a little bit of artistry!
Advanced Industry Training & Education
Advanced Rug Washing Course – Rug Washing Seminars
Textile Pro Rug Cleaning Course – Textile Pro Network
Performance Rug Care Class – DH Seminars & Centrum Force
Carpet Cleaning Certification – IICRC
Upholstery Cleaning Certification – IICRC
Odor Control Class – IICRC
The Rug Room – Active Member
Providing specialty area rug care for our valued customers in:
Montgomery, Preble, Miami, Clark, Greene, Butler, Warren, and Hamilton Counties
Oakwood, Kettering, Greene City, Beavercreek, Centerville, Washington Township, Clearcreek Township, Woodbourne-Hyde Park